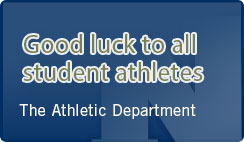 Girls Tennis


#notdone
Practice schedule for the week of May 27th:
Monday Happy Memorial Day!
Tuesday No Practice
Wednesday JV and varsity practice 2:45-4:00
Thursday No Practice
Friday Mixed doubles with boys team. 3:00 start with pizza and cake afterward in cafe
Saturday Open tournament. 1:00 Conard/Hall
Sunday Team Banquet at Indian Hill at 4:00
Events upcoming: 6/3 Athletic awards, 6/4 Puerto Vallarta fundraiser, 6/8 family tournament
All practices at NHS courts weather dependent.
The NHS Girls Tennis Remind page will be posting the most current updates. To join the NHS Girls Tennis Remind page the code is @nhsten2018.

|

|

Share